---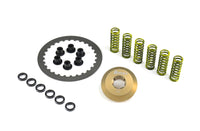 FREE SHIPPING
Eliminates 'bucking' during dead stop launches
Replaces factory back-torque limiter
Billet 7075 aluminum, mil-spec hard coat construction
Heavy duty clutch springs for increased lever pressure
Valve spring quality material, shot-peened and stress relieved
Includes .180 thick clutch spring spacers
Smoother operation, longer clutch life, lower ET's
70% lighter than OEM back-torque limiter for quicker engine acceleration
We now offer an ultra-light billet replacement for the OEM back-torque limiter. We noticed an increase in MPH and drivability from the very first launch in addition to dramatically increased clutch life.
Our GSX-R1000 (12-16) Ultra Clutch Mod Kit includes a CNC machined billet aluminum and hard-anodized one piece replacement for the OEM two piece back-torque limiter. This represents a nearly 70% decrease in rotating mass in this area alone. We also include an ultra-light and hard-coated clutch plate that utilizes our clutch springs and shim adjustable spring tops to increase spring pressure.
We elected to shim the entire clutch pack as opposed to the springs as the minimal thickness required created problems under the spring retaining screw heads. The current clutch lifter pins and nuts located in the pressure plate, original springs and spring tops are also no longer required. No core required.
Click here to view Installation Instructions
Attention: Although casual riding is generally unaffected after the installation of this product, some rear wheel 'chirp, hop or chatter' may be noticed, depending upon rider habits. All Brock's Performance products are designed for Competition Use Only. Please see our Terms and Conditions page for additional information.