---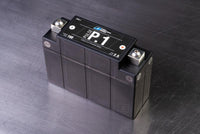 160 CA / 2.5ah ( up to 600cc bikes )
Our #1 recommendation for a second battery when running 24V applications.
Do you need the ultimate in small, light, and reliable batteries for your project? Well, the Pulse P.1 fits the bill. With 160 cranking amps, and a weight of only 1lb/500 grams, the P.1 is simply in a class by itself.
The Pulse IPT is the worlds best lightweight lithium motorcycle battery. Why?
Well, the short version is this: if you manage to drain the battery somehow- leaving the key on for a week; LED lights used at a bike night draining the battery, whatever it is- the internal IPT Battery Management System (BMS) will stop the battery from being drained to the point of damage.
Here is a short list of the features and benefits of the Pulse P.1:
*IPT Battery Management System (BMS) - Every Pulse IPT battery comes with an integrated BMS which controls the function and behavior of the battery. This means better performance and safety, with longer life, and protection from accidental damage.  
Lithium batteries can be damaged beyond repair if they are drained below 12 volts. The IPT BMS will prevent the battery from being drained, and damaged beyond repair. 
*Universal Charger Capability - Most commercially available battery chargers work with the Pulse IPT batteries. 
*Advanced Case Design- Lighter and stronger than our previous case, it rejects heat, vibration, gas and oil.
*Advanced Cell Design- We designed the Pulse IPT cells to cope with the demands of motorsports. Every component of our cells were designed and optimized for motorsports, based on a decade of experience building engine start batteries. These are only available from Full Spectrum Power.
Every Pulse IPT battery comes with our Intelligent Pulse Technology. Years in development, every feature of the Pulse IPT series of battery was conceived, designed, and created with one goal in mind: to be the most user friendly, reliable, long lasting, best performing battery ever built.
 For dual battery 24v applications the battery is considered a race battery. The race batteries are able to be discharged and do not carry a warranty.
Additional Information
| | |
| --- | --- |
| Model | P.1 |
| Weight | 1lb/500g |
| Dimensions (metric) | 113 x 40 x 80mm |
| Dimensions (standard) | 4.4 x 1.6 x 3.1in |
| Capabilities | 160ca/2.5ah |