---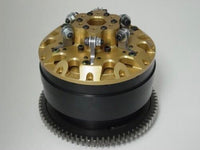 FREE SHIPPING
This new clutch called the "Gen II Multistage Clutch" is designed and built with the same robustness as MTC has used for over 40 years in making the best products in the racing industry.
This clutch significantly reduces clutch lever efforts and yet improves clutch adjustability through its "multistage" technology.
The new design runs on engine RPM, and demonstrates a quicker reaction time and more repeatability between passes.  The new design also allows for easier dynamic spring replacement with its quick access cover plate over the springs.

Includes a tuning kit and a base set up tune courtesy of 1 Stop Speed. Our tunes have resulted in 1.29 60' times on bone stock motor to 1.12 60' times on a turbo bike. 
Whether you want to harness big power or improve consistency, this will be one of the best investments you can make for drag racing!
Before your clutch ships you must ship your cores to the address below. 
Cores Required:
- 01-08 outer basket
- 01-04 inner hub
- Must run 2001-04 Steels
MTC Engineering LLC