---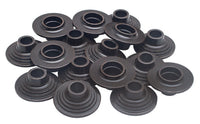 Fits 05-08 GSXR 1000

By utilizing FEA software, it was possible to take advantage of the increased strength and wear resistance of a heat treated steel retainer, while reducing its mass to within grams of a comparable titanium retainer.
These retainers are intended as an OEM replacement and are completely compatible with the OEM springs, keepers, and shims.
The spring shoulder diameter has been designed to match the OEM retainer and spring as well as KPMI's beehive spring (P/N 60-60950), making this retainer your high performance OEM alternative.
| | |
| --- | --- |
| Material | H.T. Steel |
| Quantity | Pkg. of 16  |
| Type | Intake / Exhaust |
| Unique Identifier No. | FR327789_01GAUS |