---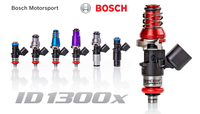 The ID1300x² is an all new injector, designed in partnership with Bosch Motorsport. This collaboration has given us the ability to design a high flow injector with characteristics specific to the needs of the motorsport tuner. The ID1300x² was designed with alternative fuels in mind, and was originally the only performance injector available with all stainless internals. It is compatible with all known fuels, and will stand up to the corrosive nature of alcohol better than any injector on the market.
While the ID1300x² was designed with an eye towards ethanol fueled engines, we have accounted for the occasional need to convert back to gasoline. The ID1300x² has a minimum fuel mass compatible with gasoline use, and will provide exceptional idle and cruise behavior under these conditions. In addition to its multi-fuel capabilities, the compact body of the ID1300x² allows fitment in 200+ applications, making it the most versatile injector in our lineup.
For Gen 1 Hayabusa they are Designed to replace the stock 99-07 injector with no modification to the fuel rail.  These will fit any fuel rail designed for stock or S2000 injectors including the RCC fuel rail.  New injector connectors are included and will require cutting and crimping new terminals onto your wiring harness.
Basic Specifications
Nominal Flow Rate – 1335cc/min @ 3.0 Bar (43.5 psi) Using Iso Octane at 52 Degrees C (125 Degrees F)
Maximum Differential Fuel Pressure – 7.0 Bar (101.5 psi)
Fuel Compatibility – Compatible With All Known Fuels – (Designed Specifically for Alternative Fuels)
Electrical Connector – USCAR
"Injector Dynamics ID1050-XDS Gen 2 Hayabusa with HTP rail conversion ONLY.  34mm length, 14mm top o-ring, remove lower o-ring retainer and use 2x8mm o-ring at TB seal (machine down lip under o-ring retainer).   Uses GTR aluminum spacer on top of injector with a flat machined on one side.  Requires throttle body bore to be drilled to 23/64"."​