---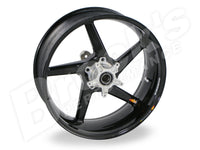 FREE SHIPPING
special order contact for lead times

Performance
Weighing between 40 and 60 percent less than OEM wheels, BST wheels bestow sportbikes with sharper corner-carving abilities, faster acceleration, and quicker braking by weighing less than their production-bike counterparts. Lighter wheels are also easier for suspension systems to control over bumps and irregular surfaces, yielding more traction and unimpeded acceleration. Less rotating mass also equals less rider fatigue.
A lighter rear wheel is easier for the shock to control properly, which leads to superior power application and much higher trap speeds in competition and track days.
Design
Using high-tech processes pioneered in the aerospace industry, BST wheels are manufactured in a single molding operation. This technique produces a wheel that is far superior in strength and much lighter than any aluminum or magnesium wheel, and one that is light and strong enough for racing and street use.
BST wheels are a unique monococque (single unit) design with hollow spokes. The end result is wheels with unsprung weight reduced 40-60 percent compared to stock wheels. This delivers the lowest possible moment of inertia, a critical factor that affects all aspects of motorcycle performance.
Maximizing the molecular and structural properties of carbon fiber, BST has reduced spoke and rim weight without compromising their strength. Mass is therefore concentrated in the hub, reducing rotational inertia. This results in quicker acceleration and braking, allowing faster corner entry and exit speeds.
Manufacturing
BST designs the tooling, molds, wheel and hubs, then manufactures them in its state-of-the-art factory. Precision cutting machines, like those used in the aeronautical industry, ensure that the process is repeatable and meets the highest certification standards. BST uses only the finest "prepreg" carbon fiber, which is embedded in a top-secret resin matrix epoxy. Carbon-fiber layup is done in a dust-free and temperature-controlled "clean room." The wheels are cured in a superheated steam oven, or autoclave, at 260 degrees and 85 psi. This produces the best material compaction and smoothest surface finish. Every step of this process is logged, the entire history of each wheel is stored and stamped with a unique serial number. To ensure the highest quality manufacturing processes and components, BST's entire operation is managed under strict, new ISO 9002 standards.
About BST
Established in 1992, BST is based near Johannesburg, South Africa. BST engineers and manufactures the world's finest carbon fiber motorcycle components from wheels and frames to fuel tanks and fenders, to the highest international standards. The standard equipment wheels on Confederate and Norton motorcycles, BST was also chosen to provide wheels and produce the carbon-fiber frame on the radical MotoCyz project. On the world stage, BST wheels have been proven at every level of FIM Grand Prix roadracing competition and have won 12 national championships. BST has sold more than 8,000 carbon fiber wheels around the world.
Support
Service
Brock's Performance offers in-house service for all BST wheels, allowing faster repair of road or track damaged wheels.
Warranty
All BST wheels come with a two-year, limited manufacturer's warranty.
Brock's Logo Sticker
The Brock's logo sticker, as shown in the gallery images, are only used for display purposes and are not part of the wheel. If you are a racer that is interested in contingencies please ask to have the logo stickers applied.
Mounting Tires to Carbon Rims
Brocks Performance's engineering department guides you through the installation process and shows you how easy it is to install tires on the BST Carbon Fiber lightweight rims.
Installation Video Links:
For best result, we recommend the use of AGS Ru-Glyde Lubricant which will protect beads against scuffing during mounting—assure proper bead seating on rim and protect against tire slippage after mounting.
To help reduce tire slip during drag-strip launches, all BST wheels 6.25" and wider come standard with BST's exclusive Ultra-High-Speed (UHS) Coating technology (item# 160290), a mixture of chemical adhesive and abrasives which create a sandpaper-like surface to reduce tire slippage on the rim. This process, used successfully in MotoGP racing since 2005, was developed to combat front-tire slippage during hard braking. UHS can be added to any size rim, front or rear.
Brock's Performance recommends Vortex sprockets for all BST applications but any sprocket that has the following measurements will work: 5 (10mm holes) with a PCD (Pitch Circle Diameter) of 100mm and a sprocket ID of 76mm. Based in the USA, Vortex has been manufacturing top quality racing components since 1995. Owned and operated by motorcycle racers, they focus on absolute quality. Each of their race components are made to the tightest tolerances with the best quality materials for the application. Vortex tests on the track with direct feedback from top professional race teams worldwide.
Improves performance by reducing the drive system's rotating mass
Lightweight 7075 T6 aerospace aluminum
Precision CNC machined individually for tightest tolerances
Ideal tooth design for perfected chain hold and release
Choose from 33 tooth through 49 tooth rear sprocket
Available for use with a 520, 525, and 530 chain
Replaceable Hubs
The hubs are attached to the wheels using a unique fastening system that combines high-tech aerospace fasteners, mechanical locking mechanisms and super-high-strength aerospace adhesive. In the event of rim damage the hub can typically be salvaged and the carbon rim replaced at a substantial savings over purchasing a new wheel. (Except on BST wheels with forged carbon hubs)
90-Degree Valve Stems
All BST wheels come with aluminum 90-degree valve stems that are not only easy to access, but keep centrifugal force from opening their Schrader valves and deflating tires during high-speed operation. Track tested up to 274 mph.
Testing
BST products have undergone decades of research, development, testing and the most stringent certifications processes. They've been flogged at Rim Technology, Eurotype Test Centre and have passed all lab and street tests for certification from Germany's TüV to the U.S. Department of Transportation, with flying colors.
BST wheels have been proven internationally at every level of FIM Grand Prix roadrace competition and in winning 12 championship titles around the world.