---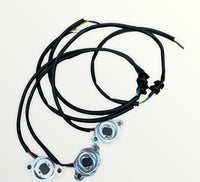 1999-2021 Suzuki Hayabusa and 2001-2016 GSXR 1000 Analog Gear Position Sensor
Eliminates the erratic signal from an OEM gear position sesnor
Provides a clean voltage output relating to a full 360° of shift drum rotation
Positive gear identification in your standalone ECU
Allows improve diagnosis of shifting issues by directly monitoring shift drum rotation
Capable of being used for "Shift until next gear" shift cut strategies
Not guaranteed in stock feel free to contact us for availability.  
Installation 
Remove Clutch cover and clutch basket assembly
Remove OEM gear position sensor and loosen wire retaining clip fasteners
Remove contacts and springs from shift drum (1999-2007 models only)
Install shift drum rotor magnet
Install sensor, ensuring wire routing clips and pass through grommet are positioned securely
Reinstall clutch basket and cover assembly
Connect wiring and calibrate sensor
Wiring Connections
| | |
| --- | --- |
|  Wire Color | Function |
| Yellow | +5v Sensor |
| Brown | Sensor Ground |
| Blue | Analog Output Signal |
Approximate sensor output calibration is shown below. For best results, the sensor should be installed and connected to your standalone and calibrated in place.
1999-2021 Suzuki Hayabusa Calibration
| | |
| --- | --- |
| Gear | Output Voltage |
| 1 | 4.22 |
| N | 3.84 |
| 2 | 3.52 |
| 3 | 2.85 |
| 4 | 2.20 |
| 5 | 1.52 |
| 6 | 0.81 |